NILA is currently developing two precious metal mining operations in Peru:
El Varon Project
LLIPA Project
Nilam Resources Inc. is a publicly traded reporting company on the:
Over The Counter Bulletin Board (OTC-BB) Exchange, traded under the symbol NILA.OTCQB.
Nilam Resources is also traded on the Frankfurt Exchange:
(WKN: A0M 649 / Kürzel: 3NL).
Corporate Profile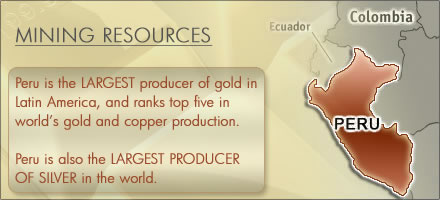 NILA board of directors have a wealth of experience in mining and geological explorations.
The executive team also consists of management and financial experts that specialize in building corporate assets for the shareholders through consistent refinement of operations and implementation of growth strategies.

With the world's growing demand for natural minerals and precious metals, NILA is favorably positioned in long term growth trends of global economic and political developments.
Nilam Resources sets the highest standards for mining operations, management and corporate values, and is publicly regarded as one of the leading gold producers in South America.