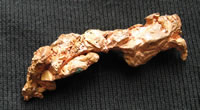 Copper in Peru
Peru's copper production in 2003 remained very close to that of 2002 reaching 839,223 t worth an estimated US$1.34 billion. Copper exports totalled 787,300 t valued at US$1.26 billion.
Peru's largest copper producer is Southern Peru Copper Corporation (SPCC), one of the 10 largest private-sector copper mining companies in the world. Shareholders of SPCC are Asarco (54.1%), Marmon Corporation (14.2%), Phelps Dodge (14.%) and common shareholders (17.7%).

Asarco, the largest shareholder, is in turn a wholly owned subsidiary of Mexican mining company Grupo Mexico. SPCC operates the Toquepala and Cuajone copper mines located high in the Andes, approximately 400 miles southeast of Lima. Production from the company's mines totalled 371,415 t copper in 2003.

Antamina is the second largest copper producer in Peru however its 2003 copper output was 22% lower than 2002 at 267,867 t . Cerro Verde is the country's third largest copper producer reporting an output of 87,327 t. Tintaya more than doubled its output in 2003 to 51,644 t having resumed operations after temporarily suspending mining operations during 2002.

Phelps Dodge also operate the Cerro Verde Mine, located 34 km from Peru's second largest city, Arequipa. The mine is located at an elevation of 2,700m and consists of two opencast operations; Cerro Verde and Santa Rosa, of which the Cerro Verde is currently being exploited. Phelps Dodge retains a 82.5% interest with partners Beunaventura 9.2% and others the remaining 8.3%. Cerro Verde employs low cost SX/EW process to extract copper from reserves containing an average of 0.64% copper. The mine had a life of 35 years and produced 169.7 Mlb of copper in 2001.

Peru has several large scale projects that are currently being made available for privatisation. Included are several projects ranging from copper, gold, coal, iron ore and phosphates.

The La Granja copper deposit, located in the Andes northeast of Lima has proven reserves estimated at more than 2 billion tons averaging around 0.6% of copper. Total costs to set up the operation (including the mine, smelter and refinery complex) is expected to exceed $2 billion. Billiton Base Metals purchased La Granja from Cambior for $35 million and is required to complete a feasibility study within the next five years.
The development of one of the largest copper-zinc ore bodies in the world, Antamina, has been completed, with first production from the mine being shipped in October 2001.

Antamina is a joint venture between Noranda Inc (33.75%), Billiton Base Metals (33.75%), Teck Cominco (22.5%) and Mitsubishi Corporation (10%). The mine is located 285 km north of Lima in the Peruvian Andes and will transport concentrates as a slurry via pipeline to the Pacific coast.

Antamina has an in-pit resource of 560 Mt grading 1.24% copper, 1 % zinc, and 13 g/t of silver, and is expected to produce 295 000 t copper and 163 000 t zinc annually over a 20 year mine life.

UK based Antofagasta Plc and Inca Pacific Resources are evaluating the Magistral copper gold porphyry deposit located close to Antamina in central Peru. Here Antofagasta has a 51% interest in the project that has outlined a mineral resource containing some 190 Mt grading 0.83% copper and 0.06% molybdenum.