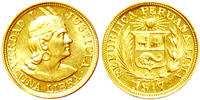 Gold in Peru
Peru's gold production increased by 9% in 2003 to reach 171,551 kg. Exports were valued at US$2.05 billion an increase of 38% from 2002. Gold represented 47% of the value of all mining exports in 2006 and 23% of Peru's total exports.
Minera Yanacocha and Minera Barrick Misquichilca contributed 68% of the total output, informal gold miners contributed 17% and Cia Minera Ares and Cia de Minas Buenaventura each contributed 3%.

Minera Yanacocha represents the first major foreign investment in Peru and remains the country's largest single gold producer. It increased output by 22% to 88,583 kg in 2003. Newmont holds a 51.35 %, with the Peruvian mining company Compania de Minas Buenaventura, S.A. holding 43.65 % and the remaining 5 % by the International Finance Corporation (IFC). The mine is located north of Cajarmarca in the Peruvian Andes.

The heap leach operation produced gold from its four open pit mines: The Carachugo, Maqui, San Jose Sur and Cerro Yanacocha. Yanacocha produced 1.89 Moz in 2001 at cash costs of only $88/oz. Yanacocha still has reserves estimated at 245Mt grading 0.81g/t gold.

Another major development has been Barrick's Pierina mine development. Pierina was developed in record time, taking only 31 months from discovery to first gold production. In 2003 Pierina produced 28,358 kg of gold and steadily increasing.

Barrick are continuing the work on their latest discovery at Alto Chicama in North-Central Peru, where an inferred resource of 61 Mt grading 1.76 g/t, for a total of 3.5 Moz gold. In total, Barrick invested over US$110 million in 2004 for construction of the Alto Chicama project.

Santa Rosa has been estimated at containing 10 Moz gold. Other major gold producers were Cia Minera Sipan (6.5t), Minera Aurifera Retamas (5.2t) and Cia Minera Ares (4.8t). Cia Minera Ares is one of Peru's latest "small" producers, producing 172,000 ounces of gold and 1.7 Moz silver each year.

Informal miners supply 12% of the country's gold production. Peru experienced a 20% increase in gold production in 2005, and is continually growing due to a warmer political climate towards foreign investments.