Llipa Location
LLIPA is located in between Antamina and Cerro de Pasco and shows a strong potential for becoming a major poly-metallic open pit mine. The mine was previously in production and had already produced 1 million tons of tailings containing copper, gold, silver, and zinc which currently remain on the property.
Current Llipa Project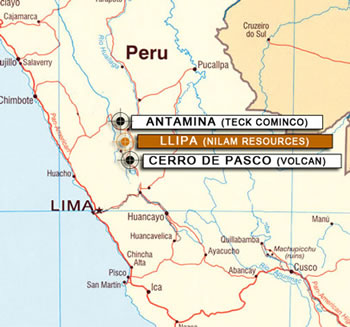 Two major mining concessions in Central Peru.
LLIPA project is constituted of two mining concessions: The Prospera mine and La Prospera XXI.

The mine follows the NW Mineralization Trend along with 2 poly-metallic mines: Antamina and Cerro de Pasco.

Antamina mine is a joint venture between Noranda, TeckCominco, BHP Billiton and the Mitsubishi Corp. Antamina is rich in gold, silver, copper and zinc, with mineral reserves of 501Mt. Antamina has a production capacity of 70,000 tonnes/day and is the largest single-circuit milling operation in the world.

Cerro de Pasco is an open pit mine owned by Volcan, covering over 61,000 hectares of poly-metallic mineral deposits.


Location and Access
LLIPA mine is located NE of the Linderos Project and accessible by highway (380 km from Lima).

The utilities of water and electricity are available in the near proximity of the LLIPA project, greatly facilitating mining operations.

The average height of LLIPA project varies between 3,600 to 4,200 meters above sea level.

LLIPA mining project is located in the center of Peru:

District: Llipa
Province: Ocros
Department: Ancash
Capital: 380 km East of Lima
NE of Linderos
Height: 3,600 to 4,200 meters